Regular price

$12.00 USD

for 9 strips

Regular price

Sale price

$12.00 USD

for 9 strips
For people trying to conceive
Timing is everything.
Leaving things to chance can be fun—but also inefficient. With over 99.9% accuracy, our Ovulation Tests predict when you're about to ovulate. From there, you'll know to get busy if you're trying to conceive. Suspect you might not be ovulating? These strips can help you get a clearer picture so you know when to call up your doc.
P.S. Customers love our reusable, collapsible collection cup (sold separately).
Download Test Instructions
Select an option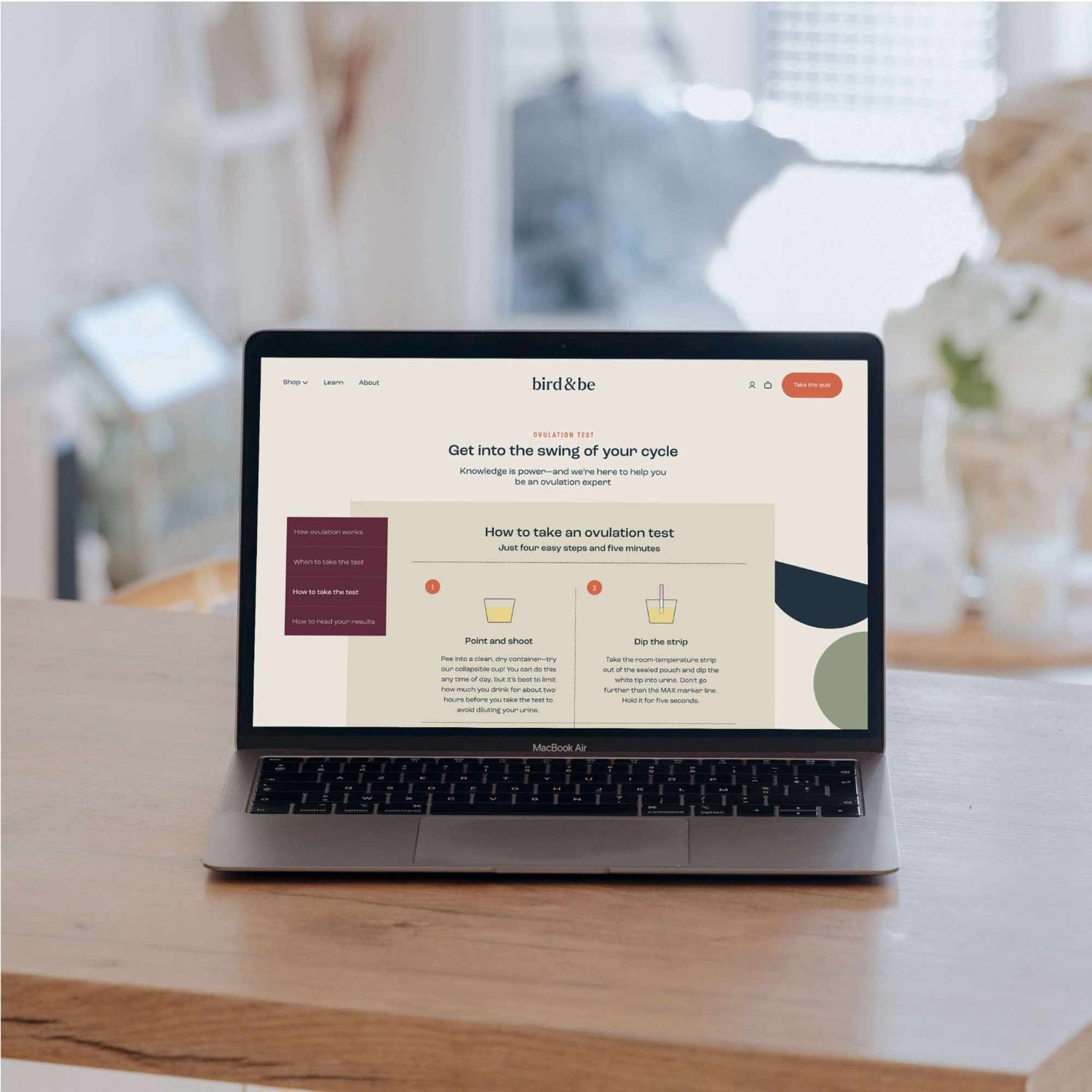 Ready to take the test?
We're here for you every step of the way. Follow along with our handy testing guide
Open the testing guide
What you may be asking yourself right now
When should I start testing?

Take your average cycle length and subtract 16 to get the cycle day you should start testing on. So, if your cycle is usually 26 days, you'll want to start testing on cycle day 10. Don't know your average cycle length? Want to double-check your math? Not sure how to count cycle days? Visit our handy

testing guide

for a full breakdown
Where can I get help interpreting my results?

Tracking ovulation can be a little confusing at first. We want you to feel confident and in control, so we've created a guide that shows you how to take the test and then walks you through the results and next steps. Visit the

guide
What makes Bird&Be's Ovulation Tests an eco-friendly option?

Chances are that you've now learned that getting pregnant isn't necessarily as easy as high school sex-ed class made it seem. It can take many cycles, each with many ovulation strips. And if you think about how many people are trying to conceive at any given moment (there are almost four million births per year in the U.S. alone), the waste adds up fast. Plastic wands and digital tests aren't a sustainable option. Our smaller strips limit what ends up in a landfill so that we can all make better choices for the planet.
I've been using the basal body temperature (BBT) method to track ovulation. Does this test replace BBT?

A spike in your basal body temperature tells you that ovulation already happened. This is good for confirming that you ovulated, but not too helpful to time intercourse, insemination or ovulation. Bird&Be's Ovulation Tests predict when ovulation is about to occur, which is key if you're trying to get pregnant.
10/10 - Love these!
I will never not buy ovulation and pregnancy tests from Bird & Be. They were easy to use, thorough instructions, great packaging and no issues with them. It was clearly detected when I was ovulating and the card to put all of your tests is a great addition. Excited to use the pregnancy tests when the time comes
Love!
These tests are highly accurate and they come with a card to compare tests day to day. Very easy for women trying to conceive or using cycles to predict when not fertile as well
Love these!
Easy to use and give you plenty of tests. Would absolutely buy again