Regular price

$105.00

Sale price

$94.50 USD
For trying to conceive
Everything you need to learn more about your fertility.
We know that starting on your path to pregnancy can be full of questions, which is why we created our Starter Pack. It includes everything you need to learn more about your fertility, so you can save time and confidently seek out the help you may need along the way.
The Starter Pack includes:
1x At-Home Sperm Test (includes 2 tests)
1x Ovulation Tests (includes 9 tests)
1x Early Results Pregnancy Tests (includes 4 tests)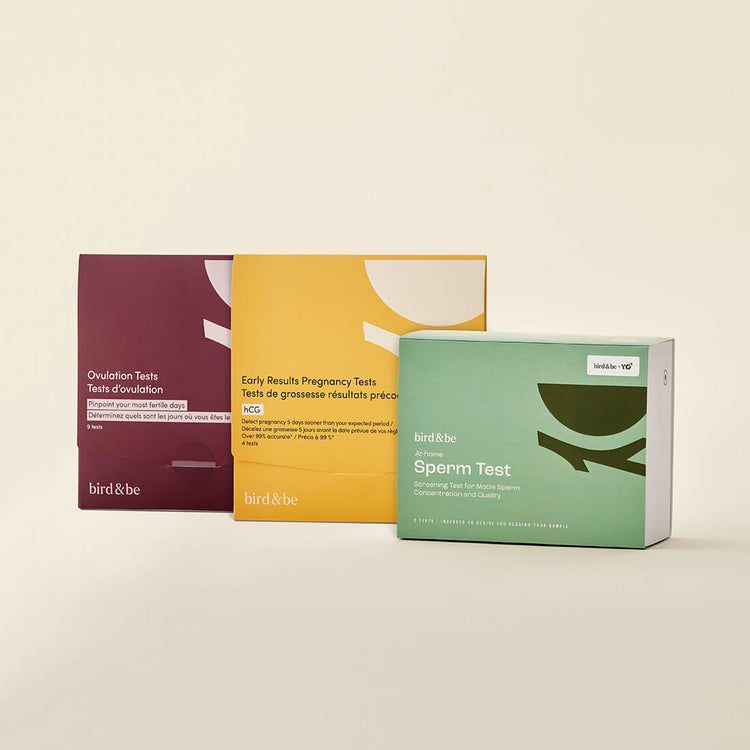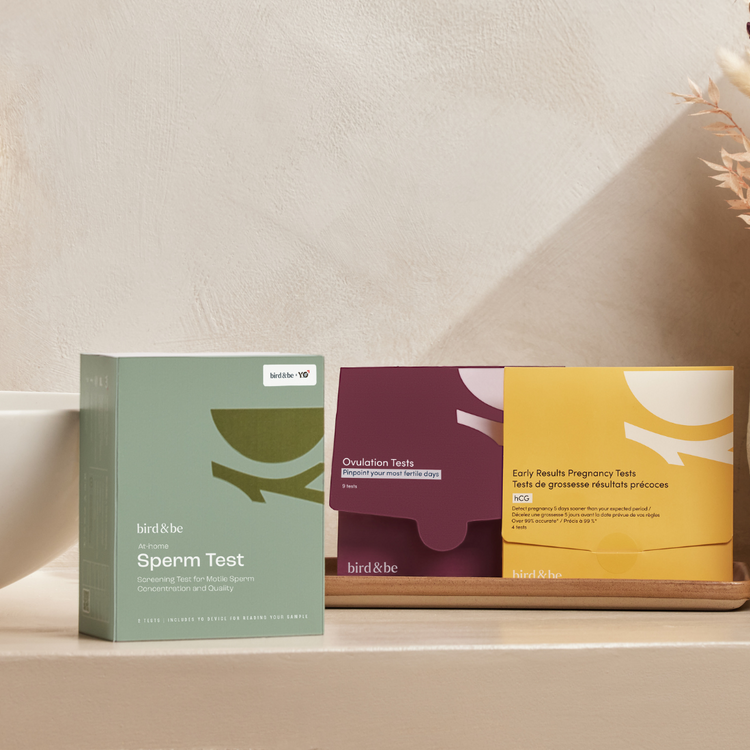 How accurate are the tests?
Our lab quality tests are ultra-sensitive. That means you can get answers sooner and more reliably!
Early Response Pregnancy Test: Detect pregnancy up to five days before your expected period at over 99% accuracy—that's max sensitivity for at-home tests. Plus, we save you some squinting with our quality conjugate (the color-changing dye molecules that interact with the hCG in your urine) so you get clear results.
Ovulation Test: Over 99.9% accurate, our Ovulation Tests detect LH, which surges right before you ovulate. This helps you know when to get busy if you're trying to conceive (or when to call your doc if you need support). Ready to take an ovulation test? Our ovulation guide includes step-by-step instructions and a results decoder so you know when to take the test and when to reach out to a doctor once you get your results.
At-Home Sperm Test: Our non-invasive At-Home Sperm Test was developed in collaboration with YoSperm and Medical Electronic System and is over 97% accurate. It can flag low motile sperm concentration and quality—so, if needed, you can help sooner.
What you may be asking yourself right now
When should I start testing with the ovulation tests?

Take your average cycle length and subtract 16 to get the cycle day you should start testing on. So, if your cycle is usually 26 days, you'll want to start testing on cycle day 10. Don't know your average cycle length? Want to double-check your math? Not sure how to count cycle days? Visit our handy

testing guide

for a full breakdown
Where can I get help interpreting my ovulation results?

Tracking ovulation can be a little confusing at first. We want you to feel confident and in control, so we've created a guide that shows you how to take the test and then walks you through the results and next steps. Visit the

guide
I've been using the basal body temperature (BBT) method to track ovulation. Does this test replace BBT?

A spike in your basal body temperature tells you that ovulation already happened. This is good for confirming that you ovulated, but not too helpful to time intercourse, insemination or ovulation. Bird&Be's Ovulation Tests predict when ovulation is about to occur, which is key if you're trying to get pregnant.
What sperm parameters does the sperm test measure?

Motile sperm concentration is the most important sperm parameter when analyzing semen. It measures how many moving sperm are in the ejaculate sample. (Did you know that there's no way the naked eye can tell if ejaculate contains sperm at all?) Sperm need to be able to swim forward to reach the egg—and that's what motile sperm concentration reveals. Generally, the higher the better for fertility. Learning about your motile sperm concentration early can help you get support sooner if needed, rather than losing time trying at home unknowingly.

The test also provides a score that puts your result in the context of other people with sperm who have had children. Finally, you'll get a recorded video of your sample (trust us, it's cool!) that can be shared with your doctor or kept completely private inside the app.
How do I take the sperm test?

You'll find directions in the test kit, but here's a quick summary. First, you'll want to download the app (get it on

Android

,

iPhone

,

Windows PC

or

Mac

). Then, follow these easy steps.

Open the app and connect the testing device to WiFi by following the instructions on the screen.
Lay out all the pieces from the box on a clean surface.
Collect your sample in the provided cup.
Add the liquefaction powder to your sample.
Wait 10 minutes, then mix your sample. It should now be runny.
Use the pipette to drop your sample onto the slide.
Insert the slide into the device. The device will record a video of the moving sperm and send it to the app on your phone. Your results will appear in 2 minutes.
What should I do if I get a low sperm test score?

Don't panic if you wind up with low motile sperm concentration or quality. Sperm are constantly regenerating and often respond to new healthy habits. We recommend loading up on the research-backed vitamins, minerals and antioxidants found in

The Power Prenatal for sperm

, making

helpful lifestyle changes

, and consulting with your doctor if you're trying to conceive.
How do the early pregnancy tests detect pregnancy so early?

Our Early Results Pregnancy Tests look for something called human Chorionic Gonadotropin (hCG), a hormone that's produced by the developing placenta. It enters the bloodstream and is secreted in urine.

Our ultra-sensitive strips can detect as little as 10 mIU of hCG per mL of urine. That's why our tests can be used as early as six days before your missed period (which is five days before your expected period). The only way to detect levels lower than that is with a blood test at a clinic.
Where can I get help interpreting my pregnancy test results?

We know what it feels like to hold your breath while you wait for results. And then to second-guess what you see. We want to support you every step of the way, so we've created a guide that shows you how to take the test and then walks you through the results and next steps. Visit the

guide

now.