Regular price

$80.00 USD

for 2 tests

Regular price

Sale price

$80.00 USD

for 2 tests
For trying to conceive
Sperm issues play a role in up to 50% of infertility cases.
Our non-invasive At-Home Sperm Test kit can flag low motile sperm concentration and quality so that, if needed, you can get help sooner and save time in your fertility journey.
Results to your smartphone in less than 20 minutes
At-home convenience (no mailing in samples or lab visits)
Live sperm video that can be shared with your doctor
Over 97% accuracy 
FDA-approved and doctor-recommended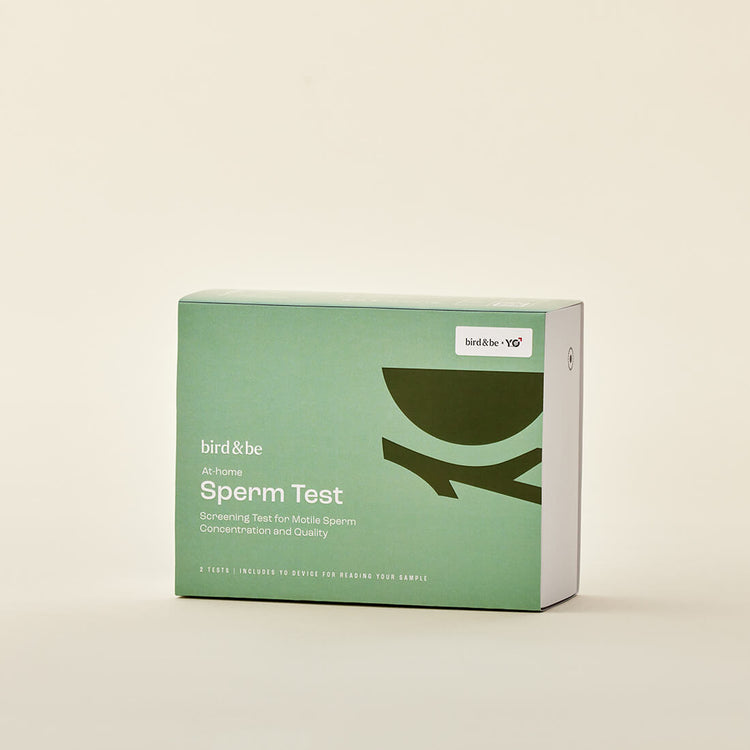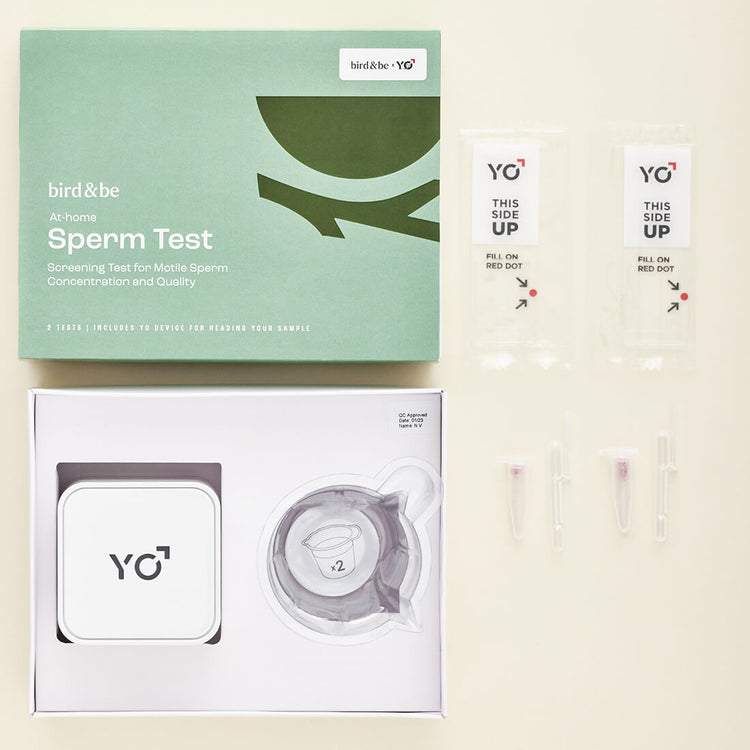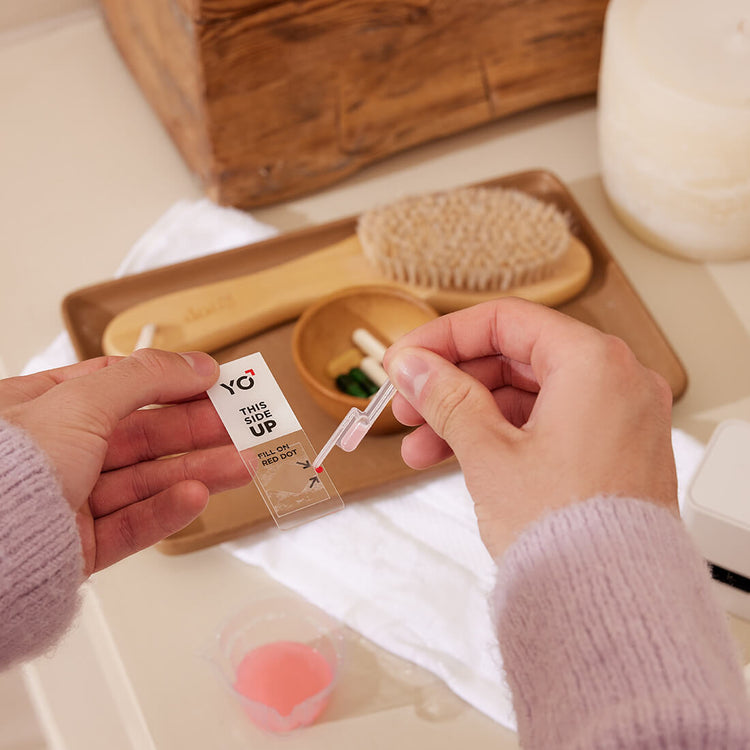 What you may be asking yourself right now
What sperm parameters does this test measure?

Motile sperm concentration is the most important sperm parameter when analyzing semen. It measures how many moving sperm are in the ejaculate sample. (Did you know that there's no way the naked eye can tell if ejaculate contains sperm at all?) Sperm need to be able to swim forward to reach the egg—and that's what motile sperm concentration reveals. Generally, the higher the better for fertility. Learning about your motile sperm concentration early can help you get support sooner if needed, rather than losing time trying at home unknowingly.

The test also provides a score that puts your result in the context of other people with sperm who have had children. Finally, you'll get a recorded video of your sample (trust us, it's cool!) that can be shared with your doctor or kept completely private inside the app.
What will I need to take this test?

The kit comes with a WiFi testing device that connects to your smartphone or computer, along with a power cable and all the testing accessories you'll need. It works with iPhone (iOS 11 and above) and Android (Android 6 and above) phones and PC (Windows 7 and above) and Mac (Mojave and above) computers. Note: Not currently compatible with Google Pixel devices running Android 13.

The instructions cover how to download the testing app, and the app will take you step by step through the 20-minute testing process. You'll then get results immediately on the app.
How do I take the test?

You'll find directions in the test kit, but here's a quick summary. First, you'll want to download the app (get it on

Android

,

iPhone

,

Windows PC

or

Mac

). Then, follow these easy steps.

Open the app and connect the testing device to WiFi by following the instructions on the screen.
Lay out all the pieces from the box on a clean surface.
Collect your sample in the provided cup.
Add the liquefaction powder to your sample.
Wait 10 minutes, then mix your sample. It should now be runny.
Use the pipette to drop your sample onto the slide.
Insert the slide into the device. The device will record a video of the moving sperm and send it to the app on your phone. Your results will appear in 2 minutes.
What should I do if I get a low score?

Don't panic if you wind up with low motile sperm concentration or quality. Sperm are constantly regenerating and often respond to new healthy habits. We recommend loading up on the research-backed vitamins, minerals and antioxidants found in

The Power Prenatal for sperm

, making

helpful lifestyle changes

, and consulting with your doctor if you're trying to conceive.
Why are there two tests per box?

Because it takes about three months for sperm to mature—and because they typically respond well to positive lifestyle changes!—we've included a second test so that you can take it again and look for signs of improvement. The included WiFi testing device can actually be used up to 100 times, and we'll soon offer refills for it too.
Can the At Home Sperm Test confirm a successful vasectomy?

The At-Home Sperm Test is optimized for fertility testing and reports motile sperm values above and below 6 million per ml. Currently, our test does not give a value of ZERO and is therefore not recommended for post-vasectomy testing. Our score ranks low, moderate/normal, so it wouldn't identify a ZERO.
I was skeptical - but it was awesome!
Honestly, I was skeptical about doing this because of the price point, but it is much cheaper then regular fertility testing and we wanted to rule out anything with my husband. It was easy to set up, the app easily downloadable and user friendly. The coolest part is that it gives you a live reading of the sperm, and you can see them all "swimming" around. It then gives you a rating, which is helpful. Very cool, would recommend to anyone who wants a piece of mind either way.
Cool, informative, and accurate
I would absolutely give the bird&be at home sperm test 5/5 stars. There's really nothing I can say bad and it exceeded my expectations. The quiz while waiting for results was impressive and engaging, which helped me learn a lot of valuable information to increase fertility. We did end up getting pregnant after our 2nd try. Scored in the 50th range on the bird&be test. Last thing I'll say it the video they email you of your results is so cool. It normally would cost over $250 to go into a doctor's office to get something like this. Glad I ordered this. Thanks!
Worth the $$!
My husband and I had been trying for 5 months with no success. Being the Type A that I am, I bought this test and had him take it- the results were very low. I thought surely this was a mistake. We went to a fertility specialist who confirmed that in fact his sperm count was low. I am so glad I bought this test! Otherwise we would've been trying for another 7 months not knowing that there was anything wrong. Knowledge is power! Now we are able to work with a specialist to maximize our chances of conceiving.
Amazing
This was the coolest thing we've ever used! My husband was so intrigued and thought this was super cool and gave us peace of mind his swimmers should be working
So easy and informative
Loved it. From the comfort of your own home, you can do the test and get the info you need. It was well packaged, easy to follow the steps and was informative. Not only do you gain knowledge while you wait for the results, you feel more informed and at ease with what you are testing for.